This homemade cream of chicken soup recipe is a game changer! It's easy and so much healthier than the canned condensed stuff, made with only a few wholesome ingredients and it tastes amazing!! Here's how to make cream of chicken soup worth kicking the canned stuff for.
There are lots of recipes that call for cream of chicken soup. These recipes are comforting and delicious, but the canned cream of chicken just isn't.
But I have good news! Making your own cream of chicken soup is seriously one of the easiest recipes to make, and it is SO delicious! Now that I have started making it, I just can't go back. And I bet you won't be able to either.
Ingredients for Homemade Cream of Chicken Soup
What's in this soup, you ask? Only four ingredients I'm sure you already have.
Butter
Flour
Milk
Chicken broth
I also love that homemade chicken soup let you control the amount of sodium you get. Using low-sodium chicken broth works great, and I didn't even feel the need to add any extra salt. So there is plenty of flavor with much less sodium. You can just use a can of chicken broth, but I like to use better than bouillon paste because I think it has better flavor.
Here's the breakdown: store-bought cream of chicken soup contains 2,175 mg of sodium per can. This recipe (which makes the equivalent of a can) of homemade contains 610 mg of sodium. That's 3.5 times less sodium – homemade is insanely better!
I even got curious and made a version using whole wheat rather than white flour and it worked great! If you choose to do this, I recommend using double the flour because it seems to be a little less effective at thickening.
How to Make Homemade Cream of Chicken Soup
Begin by making a roux: melt the butter in a saucepan over medium heat and then whisk in the flour.
Continue whisking until smooth and bubbly. Add in your broth and milk VERY SLOWLY while whisking quickly (I recommend combining your milk and broth ahead of time so you can add it simultaneously). It will look like the mixture is separating, but keep at it and once it comes together add a little more liquid. Eventually you can just dump the rest in.
Bring the mixture to a gentle boil. Turn the heat to medium low if you aren't there already, and allow it to simmer uncovered for 5 minutes until it's thickened a bit. Once you take if off the heat it will continue to thicken.
Store in a glass jar or tupperware in your fridge for up to a week, or use it right away in your favorite recipes! I like to double the recipe when I make it to have some on hand.
How to Make Homemade Cream of Mushroom Soup
While we are talking homemade cream soups, we might as well talk about cream of mushroom. Cream of mushroom soup uses the same base as cream of chicken soup, but adds in some finely chopped onion and mushrooms right after the roux is made. Just make sure to add in the extra flour because you'll need the extra thickening with the added mushroom moisture.
After the roux has formed, stir 2 tablespoons of onion and about 1 1/4 cups chopped mushrooms (half an 8 oz container) in. Continue to stir for a few more minutes as the onion and mushrooms soften just a bit.
After the mushrooms and onions are no longer raw, stir in the milk and broth. Still do it slowly, but it will be a little more awkward with all the chunks in the way. But keep up the whisking as best you can and it will turn out! Cook for another 5 minutes or so until thickened to your preference. Keep in mind it will thicken as it cools.
To Use as a Replacement for Condensed Canned Cream of Chicken
1 single recipe = 1 10.5 ounce can of condensed cream of chicken soup.
1 can is about 1 1/4 cups. You can substitute this recipe directly for a can of cream of chicken soup in any recipe. When I make this, I almost always double or quadruple and just freeze the extra for next time.
Storing
I love to store in these glass jars with these lids in both the fridge and freezer.
You can refrigerate for up to 1 week
You can freeze for up to 3 months
Just let it thaw in the fridge overnight and then spoon it right out of your jar when you are ready to use it.
Recipes that Use Cream of Chicken Soup
For Cream of Mushroom, in addition to above
3

tablespoons

flour, all-purpose

2

tablespoons

onion

diced

1 1/4

cups

mushrooms, white

diced
Melt butter in a saucepan over medium-low heat. Whisk in flour. Continue whisking until the mixture is smooth and bubbly, making a roux.

Slowly add in chicken broth and milk, whisking continuously. Whisk until combined. Bring to a gentle boil and simmer for 5-10 minutes, until thickened. Mixture will continue to thicken as it cools. Salt and pepper to taste.

If you are making Cream of Mushroom, follow the instructions above, and add an additional tablespoon of flour, 2 tablespoons of finely chopped onion, and 1 1/4 cups of diced mushrooms before adding your broth and milk. Whisk into your roux until well combined. Then follow remaining directions for cream of chicken.
Calories: 80kcal | Carbohydrates: 4g | Protein: 2g | Fat: 7g | Saturated Fat: 4g | Cholesterol: 17mg | Sodium: 66mg | Sugar: 2g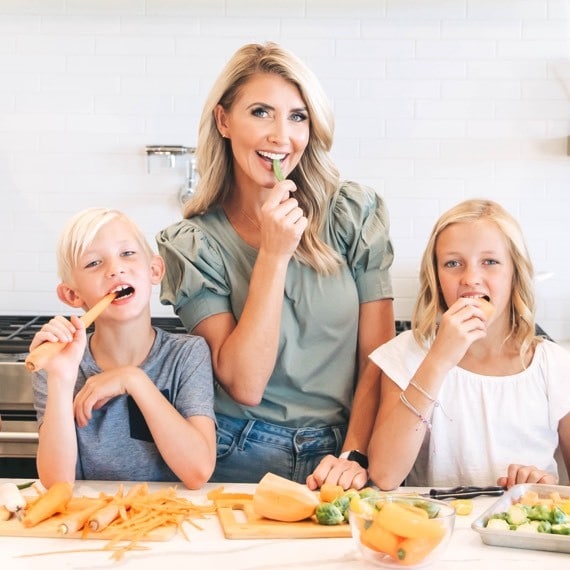 Natalie Monson
I'm a registered dietitian, mom of 4, avid lover of food and strong promoter of healthy habits. Here you will find lots of delicious recipes full of fruits and veggies, tips for getting your kids to eat better and become intuitive eaters and lots of resources for feeding your family.
Learn More about Natalie